Well, it is still the start of a New Year and 2018 is already keeping me moving! It has been a very busy school year and I have to confess that my blog has been neglected, but I hope that by sharing what we've been up to in the art room so far this school year, you will understand.
SEPTEMBER…
Ah…the start of a new school year! Eager students, a new principal and several events that were previously planned back in August are already underway. We celebrated International "Dot Day" by painting our "Kindness Rocks". Students painted two rocks, 1 which will be part of an outside installation in the spring and the second rock was for sharing with the community. We had a great time, the local media came, we participated in a "live-stream" with an elementary school and our north campus intermediate school and we spread KINDNESS THROUGH OUR CREATIVITY!
Next event, "ConFLUX"! By mid-September our 7th grade students were given the opportunity to learn about 3D printing through East Stroudsburg University. College students and their professors brought a 3D printer and iPads to the art room so students could have a first-hand experience watching the design and production process, while also gaining some career education in a fun way.
This workshop was in conjunction with the maker-fair, "conFLUX", an annual STEAM driven exhibit that students could participate in. We had a few students share their skills by creating homemade hovercrafts, animation projects and STEAM challenges. I took my 8 year old son and couldn't get him out of there-it was so cool!

We also unveiled our first "FAB LAB" Challenge of the year, "The Paper Airplane Challenge"…making a paper airplane that can carry pennies and travel as far as possible by flying it down the hall (art, math, physics and measuring-how fun!)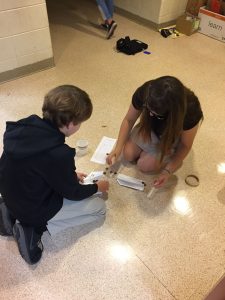 We started STUDIO PROJECTS in our classes, introduced sketchbooks and the first theme of the month, "Fashion Design" and allowed STUDENT CHOICE (something new!) giving students the option to complete 3 drawings or a project that reflects the theme each month.
I also hosted our first K-12 Art Department meeting and had the district art teachers participate in a "Newspaper Hat Challenge", which helped us better understand our own learning styles and how our students learn.
OCTOBER…
October's focus was "Unity Day" in which our school participates in different activities to promote unity and anti-bullying. JTL Art ran the annual chalk mural where students visualize bullying statistics.
The second part of the day was spent designing "kindness messages" that we plastered on student lockers in a "surprise attack" during classes. The reaction of the students making and receiving was so positive, that this will be on my "to do again" list!
Later that month, we had a visiting artist come and speak to our 7th graders about make-up design. He is an actor/artist at a local Haunted House and transformed himself from Mr. Pennino to "Father Time" using latex, make-up and costumes. The kids LOVED that!
We were also getting some really great sketchbook projects from our students…this theme-based "STUDENT CHOICE" concept was working…YAY!
Oh yeah…and we were still doing ART!!! 😉
NOVEMBER…
Did I mention we also do art? 6th Grade had a blast conducting experiments with watercolors and various materials as they made predictions, tested their hypothesis and made inferences based on these experiences. This was a really fun STEAM activity that students incorporated into their Zentangle Art.
7th grade finished up their Name Design projects and participated in PEER REVIEWS and created written or video REFLECTIONS using QR CODES. Any chance to incorporate technology into the arts, we take!
We continued our theme of "KINDNESS" by having students make handmade cards for a terminally ill boy, make handmade cards for a local State Trooper that was injured in a stand-off and participate in a "Turkey Day Challenge" that focused on GRATITUDE.
DECEMBER…
Finally, winter break is on the horizon, but that doesn't mean rest yet! Students participated in the INTERNATIONAL HOUR OF CODE this month, where students coded their own games, art and Google Logos through https://code.org/.
We also participated in a Districtwide Art Show, called "WINTERFEST". Students in grades K-12 had art on display in a gallery setting during this community event.
If you made it this far through my post, I appreciate it! As you can see, we have really been busy and this doesn't even cover many of the cool art projects the students have done so far. JTL Art has been working tirelessly to showcase the talents of our students both inside and outside of school. Students have been participating in contests, exhibits and sharing their work on social media. Personally, I am on a local arts committee and embarking on advocacy endeavors to showcase our district's art program, while providing leadership within our department in regards to STEAM, technology and trends in Art Education.
Follow "jtlart" on Twitter and Instagram to get a daily dose of our creative gig….we'd love to have you see what is going on in our art rooms!
HAPPY NEW YEAR!
-Mrs. S