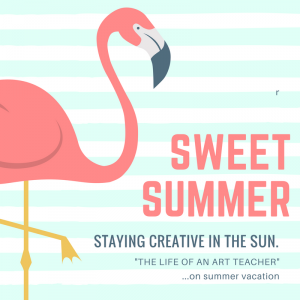 HOW I KEEP MY CREATIVITY FLOWING IN THE SUMMER MONTHS…
It's funny how the first days of summer arrive and we all catch up on our sleep after turning off the alarm for the next couple of months. Instead of living by a school bell schedule, we can start to enjoy our days by the rise and fall of the summer sun. While many of you may be attending summer camps, playing video games and catching up on your favorite You Tube channels, do you ever wonder what your art teacher is doing during the long days of summer vacation? Guess what? I am making art! There is a difference though. Instead of doing student driven art and focusing on curriculum based lesson plans for middle school art, I get to make art for myself and others. It's "my time" to reignite my own creative passions. Perhaps by sharing this with you, it will inspire the artist within you to try something creative during these last few weeks of summer vacation?
1. MAKING TIME FOR CREATIVITY. This summer I decided to use a book that I purchased for use in the classroom called, "Dare to Doodle: Creative Exercises for a Healthy Noodle!" Each page features part of an image or drawing with a prompt to complete it. I love doodling, but find I am sometimes lost for inspiration, so this was a great way to incorporate some focused drawing time into my daily routine. While I enjoy my morning coffee, I can turn on some music and doodle away. Before I know it, time has passed quickly.
Looking for some drawing prompts? Check out "The Giant List of Sketchbook Ideas" at https://onecurioushuman.com/teaching-art/the-giant-list-of-sketchbook-ideas/
I find it very rewarding to start the day off with some creative "me-time". Plus, daily drawing will get your ready to use your sketchbook in art class when school starts in the Fall. The more you practice your craft, the better you will be at it!
Looking for other ways to incorporate some creativity into your daily routine? Try some of the adult coloring books. This link provides a great resource of many different coloring pages to challenge the artist within you: https://www.thebalance.com/free-printable-coloring-pages-for-adults-1358144
Here is a coloring page that was shared with me via a local business, "Ray Price Stroud Ford", looking to inspire creativity within our community, http://www.raypricestroudford.com/.
I will be sharing their monthly coloring pages with students throughout the upcoming school year, as I know many of my middle school students enjoy the intricate designs and patterns on these coloring pages. 
2. NEW DISCOVERIES. Our summer may have started out like some of your's. Going to camp. I enroll my son in "Camp Invention" every summer and this year he was super excited to go. One of the best parts of the camp is the "take apart" workshop where my son gets to take apart an old device or appliance and then re-create it using some of its parts in new ways. This year they also created bubble blasters, alarm boxes and other fun creations. The exciting part for me as an art teacher is the "upcycling" of lots of different materials into new inventions. My son created a "medi-bot" concept where a small "bot" would be implanted into a person when they are sick or hurt. The "bot" then turns into a germ ninja, a bone builder or whatever else can help a person heal. I thought it was a great idea! What creative ideas do you have that can help the world?
CODING. While you may be gaming away and playing on your tablets and computers, I am trying out some new technologies this summer, too! In June, I took my son to the local library to practice his coding on https://code.org/.
This is a super student-friendly way to learn the basics of coding and how certain lines of code work together to make games and apps run. He had a lot of fun using the Minecraft and Flappy Bird programs. While many of my students have used code.org during December, when we participate in the worldwide "Hour of Code", there are lots of options that take coding even further based upon one's interest and learning level. It's a great way to learn new skills through gaming! 
PLAY. A great "toy" we bought this summer was the "Makey Makey Go". This is a portable invention tool that allows the owner to turn just about "anything into an interactive something". I have been working really hard on looking for ways to inspire my son "to invent" this summer, but also knew it was a tool that could be implemented into the art room. My smART partner, Miss Chris, was fortunate enough to get a small set of Makey Makey's for her art room last spring, so this is something that some of our art students have already played with. Having this smaller version at home allowed for further exploration of some of the possibilities of the Makey Makey.
3. PRACTICING MY OWN CRAFT. Finally, summer affords me the time to practice my own art. I LOVE hand lettering and fonts. I can spend oodles of time exploring Pinterest to gather ideas and inspiration of beautiful lettering styles and design ideas. A few years ago, I launched my own creative endeavor called, "Handmade by Mercy". I design, paint and draw hand lettered signs for people. It is a great way for me to do my own art and stay creatively challenged. While I do not have a big business, it is very satisfying to be an artist outside of the classroom and I have made more than 100 signs over the past few years that have been sold or donated to charity! 
These are just two of the many signs that I created this summer. One is in progress, on pallet wood and was rather large. The other sign was painted on canvas. I love the challenge of taking someone's words and turning them into a work of art that can be cherished for years to come by the recipient.
Another project that my son and I participated in this summer was called "Pocono Kindness Rocks". The idea is that you paint rocks with either an image, patterns or message and leave the rocks somewhere in the community for someone to find. That person can either keep the rock or re-hide the rock somewhere new. It was a project that was brought to our area by myself and two friends. You can learn more about it here: http://www.poconorecord.com/news/20170724/new-way-to-connect
The group was also featured on the local news stations and there is a Facebook Page that you can post to, https://www.facebook.com/groups/1479337705525138/
My son had a great time hiding our rocks. We even found one at our local library throughout our "hiding" adventure! Maybe this will inspire you to get outside and hide or seek, while spreading kindness through your creativity? Be ready to build on this kindness project this Fall, too!
However, let's not rush what is left of summer. Enjoy the last few weeks. Try something creative. Share it with me in the comments or tag us on Instagram or Twitter "@jtlart".
I look forward to seeing everyone back at school soon!
STAY CREATIVE!
-Mrs. S