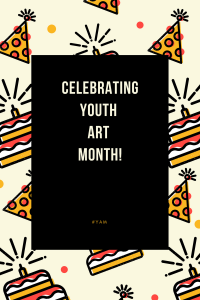 MARCH IS YOUTH ART MONTH!
Malcolm D. writes what #art is and then shows off his imaginative "Dream House" painting to the world.
Youth Art Month is a month long celebration of why art is an important part of our students' education. During Youth Art Month, our students are excited to share with the world what art means to them. My smART partner and I have been working hard at sharing all of the amazing things our students are doing in the art room with the rest of the world. Youth Art Month just gives us another excuse to kick our arts advocacy mission up a notch!
Last year during Youth Art Month, we launched our social media platform using Twitter and Instagram. We started "jtlart" as our tag and have built up quite a following by students, parents and professionals. It has been quite exciting and really helped us start this school year off with the ability to showcase what is happening in our classrooms. Do you want to learn more? Follow us "@jtlart"!
A PICTURE SPEAKS LOUDER THAN JUST WORDS…
This year we decided to dedicate a space in our art room for students to share what "#artis" to them. We had large picture frames built (thank you to our super-handy and helpful Tech. Ed. Teacher, Mr. Steve Bybee!) and these frames were suspended from the wall so students have a special "photo-op" space. We created this special space just in time for Youth Art Month!
The students have been having a lot of fun
posing and sharing their ideas with the world!
In addition to our social media campaign, we are participating in a district-wide "Artist Trading Card" project. Students in all ten of our schools within the East Stroudsburg Area School District are designing small trading cards with their own artistic flair. These cards will be traded amongst the art teachers at our monthly department meeting and then re-distributed to students. Many of my middle school students are adding special positive messages to brighten the recipient's day. I am eager to see their reactions when they receive cards from other student artists!
Abby K. works on her "Artist Trading Cards".
What are you doing to celebrate Youth Art Month? I'd love to hear your ideas, as well as why you think art should be an important part of education. Let's continue to keep art alive in our schools! Afterall, "#art is" a creative outlet, a time to explore and discover new possibilities, gain an appreciation for design and develop a unique lens for viewing the world around us. I hope you make some time to create something this weekend!
-Mrs. S